KÄRASTE FINASTE SÖTASTE BÄSTASTE NI!!!!!
Det är med stor glädje, sorg och stolthet vi arrangerar terminens sista WILDE! Vilket också sammanträffar med överlämnandet till en ny konstellation (AAASGRYMMA) arrangörer som ser till att det fortsätter finnas en alternativ nationsklubb för queerstudenter i Uppsala. När vi startade WILDE! för fyra år sedan hade vi en kollektiv erfarenhet av festfixeri kring cirka 0,01, den nya gruppen har erferenhet av bla a festivalarrangemang, musikproduktion och genusvetenskap så bli inte förvånade om WILDE 2.0 överträffar alla era förväntningar 2014.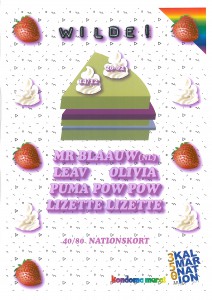 ✣✣✣
FÖR ATT FIRA DETTA ordnar vi en KALASKVÄLL!!! TÅRTA! FISKEDAMM! BALLONGER!
Tårta har på sistone fått ett onödigt farligt och tufft rykte. Tårta som bara är en stor fruktig och gräddig mes. Tårta som är världens mjukaste projektil. Därför vill vi ta tillbaka Tårta och förvandla hen från ett verktyg i händerna på ondskans makter – till något sockrigt i din mun!!!
SA VI ATT VI BJUDER PÅ TÅRTA?!?! (Till alla early birds ♥ Typ så länge det räcker..)
✣✣✣
♥ GAY/QUEER
♥ 40/80
♥ Dörrarna öppnas 20.00
♥ GRATIS före 21
♥ ÖPPET till 02
♥ Nationskort
✣✣✣
▀▀▀▀▀▀▀▀▀▀▀▀▀▀▀▀▀▀▀▀▀▀▀▀▀▀▀▀▀▀▀▀▀▀▀▀▀▀▀▀▀▀▀▀▀▀▀▀▀▀▀
✣ KÄLLAREN ✣
MR BLAAUW
(House/Techno/Electro)
I Amsterdams sedeslösa hamnområde hittade vi Mr Blaauw som får nöjet att dirigera musiken i mörka rummet kring midnatt. Vi garanterar festsugna och danshungriga gäster att bli väl förtjänta av Mr Blaauw som annars bl a är en del av kollektivet bakom stadens mest populära queera underground klubb "de Trut" när hen inte jobbar i en av stadens coffeeshops.
https://soundcloud.com/mrblaauw
LEAV
(Minimal/House)
Leav, eller Jonas Isaksson (your choice) är en deep house-producent och DJ från Uppsala,
signad på Stockholmsbaserade skivbolaget 12-3 Recordings. Hen har förkärlek för minimalistiska låtar
och är inte rädd för att experimentera när det kommer till att producera musik.
https://soundcloud.com/leavmusic
OLIVIA
(Breaks/90s)
En ung och energisk personlighet som spelar väldigt, VÄLDIGT intressant musik. Med förkärlek för 90-talet levererar hen ninjabreaks med '93-pianon, nu disco som är så sexig att den vill bli slickad på och mycket, mycket mer. Det finns ingen anledning att stå still när det spelas så bra musik!
✣ ÖVERVÅNINGEN ✣
LIZETTE LIZETTE (Rave/Eurodance)
Artisten och DJ:n Lizette är nyligen hemkommen från UK-lanseringen av debut ep:n "Raveland". Hen är ökänd för sina RAVEIGA dansgolv och har spelat runt om i både Sverige och England. Bered er på en färgsprakande kaskadspya av Eurodance, Eurotechno och Rave-hits!
http://lizettelizette.com/
http://soundcloud.com/lizette-lizette
PUMA POW POW (Postpunk/Bailefunk/Kuduro)
Multitalangen PUMA POW POW syns allt som oftast med fingrarna i den syltburk som är sthlms queerkultursväng. På Högkvarterets tid styrde hen klubb RAH!RAH!REPLICA med kumpaner Alice Kuzmina och Elinor Hasselberg.
PUMA POW POW syns också i kaosjazzbandet Dylikt där hen bla trakterar såg (!).
Vi kommer kvällen till ära att föräras med beatz från mellanöstern korsat med afrikansk queer awsomeness, bitig baile funk från favelan samt punkattityd i form av riotgrrrl och en skvätt postpunk.
▀▀▀▀▀▀▀▀▀▀▀▀▀▀▀▀▀▀▀▀▀▀▀▀▀▀▀▀▀▀▀▀▀▀▀▀▀▀▀▀▀▀▀▀▀▀▀▀▀▀▀▀▀▀▀▀▀▀▀▀▀▀▀▀▀▀▀▀▀▀▀▀▀▀▀▀▀▀▀▀▀▀▀▀▀▀▀▀▀▀▀▀▀▀▀▀▀▀▀▀▀▀
Google-translate-English:
BELOVED FINEST BEST CUTEST THING YOU ! ! It is with great joy , sadness and pride that we arrange the semester last WILDE ! Which also coincides with the handover to a new constellation ( AAASGRYMMA ) organizers to ensure that it continues to be an alternative nation club for queer students in Uppsala. When we started WILDE ! Four years ago we had a collective experience of festfixeri at around 0.01, the new group has ' experience of blah a festival events , music and gender studies so do not be surprised if WILDE 2.0 surpasses all your expectations in 2014.
TO CELEBRATE THIS we arrange a PARTY TONIGHT ! CAKE ! FISH POND ! BALLOONS !
Cake has recently received an unnecessarily dangerous and tough reputation. Cake that is just a big fruity and creamy mess . Cake is world's softest projectile. Therefore we want to take back the cake and turn the hen from a tool in the hands of the forces of evil – to something sugary in your mouth !
SAY WE THAT WE PROVIDE THE CAKE ? ! ? ! (For all early birds ♥ type as long as it lasts ..)
✣ ✣ ✣
♥ GAY / QUEER
♥ 40/80
♥ Doors open 20:00
♥ FREE before 21
♥ OPEN to 02
♥ Nation Card
✣ ✣ ✣
▀▀▀▀▀▀▀▀▀▀▀▀▀▀▀▀▀▀▀▀▀▀▀▀▀▀▀▀▀▀▀▀▀▀▀▀▀▀▀▀▀▀▀▀▀▀▀▀▀▀▀
✣ BASEMENT ✣
MR BLAUUW
( House / Techno / Electro )
In Amsterdam's debauched harbor area we found Mr. Blaauw who gets the pleasure of directing the music in the dark room around midnight. We guarantee revelers and dance hungry guests will be well deserving of Mr. Blaauw who else among others, are part of the collective behind the city's most popular queer underground club " the Gull " when the hen does not work in one of the city's coffee shops.
https://soundcloud.com/mrblaauw
LEAV
(Minimal / House )
Leav , or Jonas Isaksson ( your choice ) is a deep house producer and DJ from Uppsala,
signed to Stockholm-based label 12-3 Recordings. Hen has penchant for minimalist songs
and is not afraid to experiment when it comes to producing music .
https://soundcloud.com/leavmusic
OLIVIA
( Breaks/90s )
A young and energetic personality who plays very , VERY interesting music. With fondness for '90s delivers hen ninja breaks with '93 – pianos, now disco which is so sexy that it wants to be licked on and much , much more. There is no reason to stand still when it's played so great music!
✣ UPPER FLOOR ✣
LIZETTE LIZETTE
( Rave / Eurodance )
Artist and DJ Lizette recently returned from the UK release of debut EP " Raveland " . Hen is notorious for its RAVEIGA dance floor and have played around in both Sweden and England. Prepare yourselves for a colorful cascade of vomit Eurodance , Euro Techno and Rave hits!
http://lizettelizette.com/
http://soundcloud.com/lizette-lizette
PUMA POW POW
( Post Punk / Baile Funk / Kuduro )
Multi Talent PUMA POW POW seen all too often with your fingers in the jam jar that is Sthlms queer cultural turn. At Headquarters time steered hen club RAH ! RAH ! REPLICA with Alice associates Kuzmina and Elinor Hasselbergsvägen .
PUMA POW POW also appears in chaos jazz band Dylikt where hen blah regales saw (!) .
We come with great honor that honored with beatz from the Middle East crossed with African queer awsomeness , chunky baile funk from the favela and punk attitude in the form of riotgrrrl and a dash of post-punk .